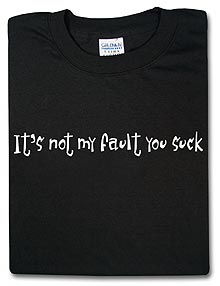 "It's Not My Fault You Suck" T-Shirt is a t-shirt being sold in the Penny Arcade Store for $17.99.
Store Description
Edit
Well, it's not!
I'm not saying that it happens all the time or anything. But, on the off chance that someone says that it is, in fact, your fault, you can just point to your shirt and shrug. What are they going to do, argue with your shirt? That's ridiculous.
100% cotton heavyweight t-shirt in black with "It's not my fault you suck" printed in white with the Penny Arcade logo in grey.
Ad blocker interference detected!
Wikia is a free-to-use site that makes money from advertising. We have a modified experience for viewers using ad blockers

Wikia is not accessible if you've made further modifications. Remove the custom ad blocker rule(s) and the page will load as expected.