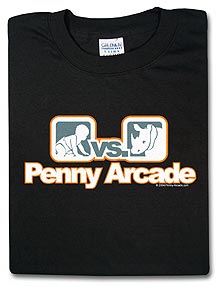 Baby vs Rhino T-Shirt is a t-shirt being sold in the Penny Arcade Store for $17.99. It is now discontinued.
Store Description
Edit
When Babies battle with Rhinos, everyone wins.
In the wild, Babies and Rhinos are natural enemies and fight until their last drop of blood. Now, for the first time, you can own the shirt dedicated to the initial hostilities of these two deadly combatants. Frozen in the second before their eternal struggle, you can keep that moment forever
100% cotton heavyweight preshrunk t-shirt in geeky black, with the baby vs rhino design printed on the front in blue, orange, and white, and the PA logo on back.
Ad blocker interference detected!
Wikia is a free-to-use site that makes money from advertising. We have a modified experience for viewers using ad blockers

Wikia is not accessible if you've made further modifications. Remove the custom ad blocker rule(s) and the page will load as expected.