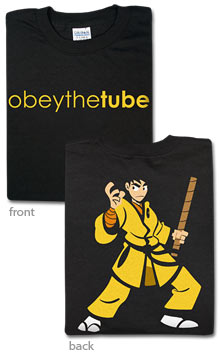 CTS - Obey The Tube is a shirt being sold in the Penny Arcade Store for $17.99.
Store Description
Edit
These new shirts contain Cardboardium, a mineral we have only just invented.
The Obey The Tube shirt subjugates all who observe it - making it a great Subjugation Day gift! Civilize the masses in a twenty yard radius wherever this shirt is worn.
100% cotton heavyweight shirt in black. The front warns you to "obey the tube". The menacing Cardboard Tube Samurai is on the back.
Ad blocker interference detected!
Wikia is a free-to-use site that makes money from advertising. We have a modified experience for viewers using ad blockers

Wikia is not accessible if you've made further modifications. Remove the custom ad blocker rule(s) and the page will load as expected.