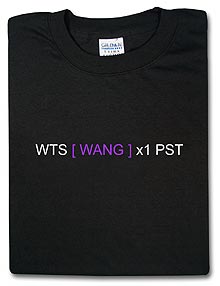 Epic Wang is a t-shirt being sold in the Penny Arcade Store for $17.99.
Store Description
Edit
For a limited time, I am making my Epic Wang available.
Listen up, everybody in Ironforge - specifically those of you on the Cenarius server. This is no commonplace wang I have on offer. This wang, tempered in the Molten Core, has a variety of properties I think you may find... unique.
100% cotton black heavyweight t-shirt with WTS [WANG] x1 PST printed on the front in white and purple. Penny Arcade logo on the back in white.
Ad blocker interference detected!
Wikia is a free-to-use site that makes money from advertising. We have a modified experience for viewers using ad blockers

Wikia is not accessible if you've made further modifications. Remove the custom ad blocker rule(s) and the page will load as expected.