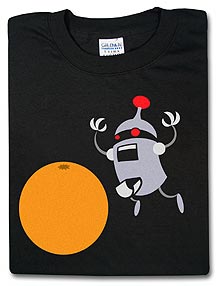 FF - Caught in the Act is a t-shirt being sold in the Penny Arcade Store for $17.99.
Store Description
Edit
Our most vigorous juicer yet!
We at FuckerCorp have received reports of "promiscuity" on the part of our popular FruitFucker brand automated juicer. As a result, we are recalling all existing models. We've taken this opportunity to improve the hydraulics and gripping power of America's favorite juicing apparatus.
The FruitFucker attacks again on the front of this black, heavyweight 100% cotton t-shirt. The back has the Penny Arcade logo in white.
Ad blocker interference detected!
Wikia is a free-to-use site that makes money from advertising. We have a modified experience for viewers using ad blockers

Wikia is not accessible if you've made further modifications. Remove the custom ad blocker rule(s) and the page will load as expected.