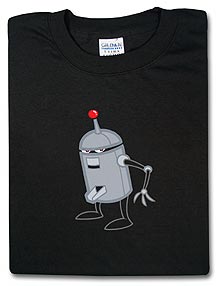 Fruit Fucker T-Shirt is a t-shirt being sold in the Penny Arcade Store for $17.99.
Store Description
Edit
Hide the citrus.
To anyone else, this is just a shirt with a robot on it and an orange sphere. People who don't read Penny Arcade won't know why there is an orange on the back. But you will.
Want to be let in on the secret?
100% cotton heavyweight t-shirt in black. The infamous Fruit Fucker printed on the front in steel grey, and a used and dejected orange (and the Penny Arcade logo) on the back.
Ad blocker interference detected!
Wikia is a free-to-use site that makes money from advertising. We have a modified experience for viewers using ad blockers

Wikia is not accessible if you've made further modifications. Remove the custom ad blocker rule(s) and the page will load as expected.