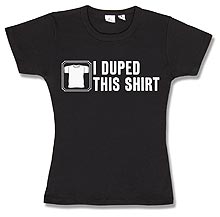 I Duped This Shirt Babydoll Tee is a babydoll t-shirt being sold in the Penny Arcade Store for $17.99. It is now discontinued.
Store Description
Edit
And we have done so by utilizing sploitz.
In the production of our duped cyberwear, only the finest Hax are employed. Luxurious, imported Hax are used in every step of the process to ensure that these duped shirts are of excellent quality before they are placed on the auction house.
Black t-shirt in 100% cotton babydoll tee. "I Duped This Shirt" on the front in white. Penny Arcade logo on the back - also in white.
Ad blocker interference detected!
Wikia is a free-to-use site that makes money from advertising. We have a modified experience for viewers using ad blockers

Wikia is not accessible if you've made further modifications. Remove the custom ad blocker rule(s) and the page will load as expected.