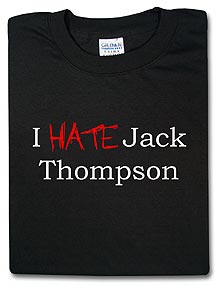 I Hate Jack Thompson is a t-shirt being sold in the Penny Arcade Store for $17.99.
Store Description
Edit
Everyone, including his own mother, hates Jack Thompson.
Virtually every living creature hates Jack Thompson, professional scold and slavering ambulance chaser. Squirrels, policemen, sea captains, fruit bats, aeronautical engineers, milliners, zookeepers, bakers, and pharaohs all hate Jack Thompson.
Black t-shirt in 100% heavyweight cotton with "I Hate Jack Thompson" printed in white and red on the front. Red Penny Arcade Logo adorns the back.
Ad blocker interference detected!
Wikia is a free-to-use site that makes money from advertising. We have a modified experience for viewers using ad blockers

Wikia is not accessible if you've made further modifications. Remove the custom ad blocker rule(s) and the page will load as expected.