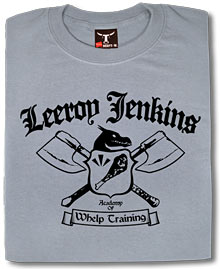 Jenkins Academy is a shirt being sold in the Penny Arcade Store for $17.99.
Store Description
Edit
Wear the heroic tale of brave Sir Leeroy.
Many raid groups on Dire Maul, Cenarius, and other servers deal with whelp-related wipes on a daily basis. But did you know that there are proven techniques for dealing with the hatchling threat? Here at the Leeroy Jenkins Academy, we can teach you powerful tools for aggro management that can save lives.
100% cotton heavyweight Beefy Tee in Graphite. Jenkins Academy design on the front in black. Penny Arcade logo on the back in black.
Ad blocker interference detected!
Wikia is a free-to-use site that makes money from advertising. We have a modified experience for viewers using ad blockers

Wikia is not accessible if you've made further modifications. Remove the custom ad blocker rule(s) and the page will load as expected.