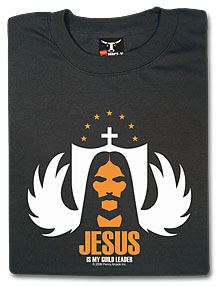 Jesus is my Guild Leader is a t-shirt being sold in the Penny Arcade Store for $17.99.
Store Description
Edit
And some people think that's unfair.
People want to know if having the Creator of Heaven and Earth in your party improves the drop rate. It's not something I want to discuss in detail - but I will say that I do have a sixteen slot bag full of Krol Blades.
Heavyweight 100% cotton black t-shirt. "Jesus is my Guild Leader" with a modern portrait of the Guy himself on the front in orange with white wings. Penny Arcade logo on the back.
Ad blocker interference detected!
Wikia is a free-to-use site that makes money from advertising. We have a modified experience for viewers using ad blockers

Wikia is not accessible if you've made further modifications. Remove the custom ad blocker rule(s) and the page will load as expected.