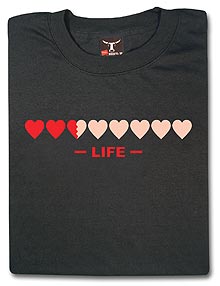 Life is a t-shirt being sold in the Penny Arcade Store for $17.99.
Store Description
Edit
Without it, you've got nothing.
That's why it's critical to push every stump, whack every shrub, bomb every crag, and generally make a mess of the place looking for hearts. They hide that shit. If someone asks what you are doing, tell them that you're in Landscaping and that you have a vision.
100% cotton heavyweight Beefy Tee in Black. Heart design on the front in red and peach. Penny Arcade logo on the back in red.
Ad blocker interference detected!
Wikia is a free-to-use site that makes money from advertising. We have a modified experience for viewers using ad blockers

Wikia is not accessible if you've made further modifications. Remove the custom ad blocker rule(s) and the page will load as expected.