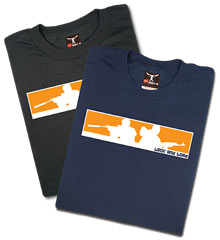 Lock N Load is a t-shirt being sold in the Penny Arcade Store for $17.99. It is now discontinued.
Store Description
Edit
This is really the preferred order to do it in.
I honestly can't tell you how many times I'll see somebody load first, and then attempt to lock. In fact, that's why we made this shirt. It's really a kind of outreach program. If you see someone doing it the wrong way, just sort of scowl at them and gesture toward the front of your shirt.
100% cotton heavyweight Beefy Tee in Black and Navy. Design on the front in white and orange. Penny Arcade logo on the back in white.
Ad blocker interference detected!
Wikia is a free-to-use site that makes money from advertising. We have a modified experience for viewers using ad blockers

Wikia is not accessible if you've made further modifications. Remove the custom ad blocker rule(s) and the page will load as expected.