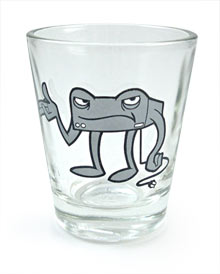 Penny Arcade Div Shot Glass is a glass being sold in the Penny Arcade Store for $4.99.
Store Description
Edit
A most appropriate pairing.
Never drink alone again, with Penny Arcade's revolutionary Liquor Receptacles(tm). This breakout product combines all the fun of liquids with an industry leading process that... Alright, it's a shot glass with Div on it. I'm sorry. I was up late.
1.5 ounce clear shotglass with Div printed in grey and black. Drink up!
Ad blocker interference detected!
Wikia is a free-to-use site that makes money from advertising. We have a modified experience for viewers using ad blockers

Wikia is not accessible if you've made further modifications. Remove the custom ad blocker rule(s) and the page will load as expected.