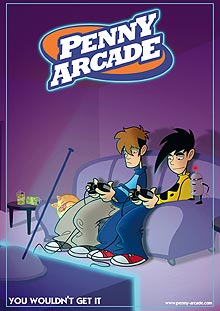 Penny Arcade Group Poster is a poster being sold in the Penny Arcade Store for $14.99.
Store Description
Edit
Gabe and Tycho in their natural habitat.
Featuring Gabe and Tycho in their natural habitat, we hope this poster is one your family will enjoy for generations. Its Gleamcote seal is impervious to elemental damage and can only be harmed by one of the seven lost baneblades, possibly due to their extradimensional origin.
It can also be rolled up for use as a telescope in pirate adventures.
17" wide x 24" high, printed on 80 pound cover stock (aka nice, heavyweight paper) with an aqueous coating.
Ad blocker interference detected!
Wikia is a free-to-use site that makes money from advertising. We have a modified experience for viewers using ad blockers

Wikia is not accessible if you've made further modifications. Remove the custom ad blocker rule(s) and the page will load as expected.