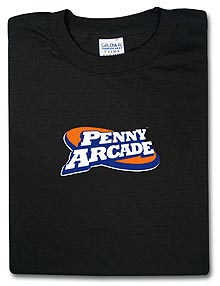 Penny Arcade Logo Shirt is a t-shirt being sold in the Penny Arcade Store for $17.99. It is now discontinued.
Store Description
Edit
Do not settle, sir, for reproductions comprising but three dimensions! Order now to receive genuine Penny Arcade apparel which projects, yea, even unto a strange and wond'rous fourth reality!
100% cotton heavyweight t-shirt in geek-friendly black. Big Penny Arcade logo printed on the front in white, blue and orange. PA logo on the back too in white!
Ad blocker interference detected!
Wikia is a free-to-use site that makes money from advertising. We have a modified experience for viewers using ad blockers

Wikia is not accessible if you've made further modifications. Remove the custom ad blocker rule(s) and the page will load as expected.