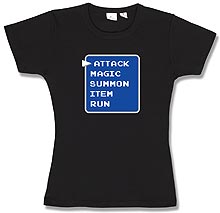 RPG babydoll is a babydoll t-shirt being sold in the Penny Arcade Store for $17.99.
Store Description
Edit
Choose... But choose wisely.
Familiarize yourself with these options, because they are all you have. You will utilize these five actions to save the world.
100% cotton Babydoll Tee in Black. RPG design on the front in blue, grey and white. Penny Arcade logo on the back in grey.
Ad blocker interference detected!
Wikia is a free-to-use site that makes money from advertising. We have a modified experience for viewers using ad blockers

Wikia is not accessible if you've made further modifications. Remove the custom ad blocker rule(s) and the page will load as expected.